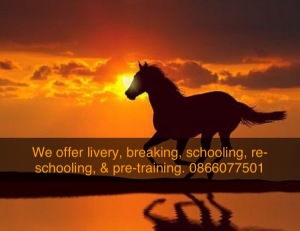 Claire O'Dwyer
Claire does most of the teaching. She is a qualified BHSAI, who also holds a current first aid and child protection cert. She is also qualified in childcare and special needs. Claire's first love is racing and she spent many years working with racehorses in the UK, Ireland and Australia for the top trainers and was lucky enough to ride some top class racehorses in all three countries. She has vast experience with young horses, and can often be seen out competing Eventing Ireland & SJI.
Ronan O'Dwyer
Ronan is well known for his patience and skill in breaking horses, this, along with racing and hunting are his passion. Ronan has trained both winners on the track and point to pointing. He has been privileged to have broken in some equine superstars.
The Rest Of The Family
Ronan and Claire have three children with Hope being the eldest. Hope is a great horsewomen, she has her pony club B test and has an interest in Eventing, show jumping, hunting and racing. Poppy is mad into the horse riding, grooming and the general care of the ponies and would spend every minute with them given a chance! Toby has a love for speed and can be seen going as fast as he can around the gallop on his pony, Dusty!!